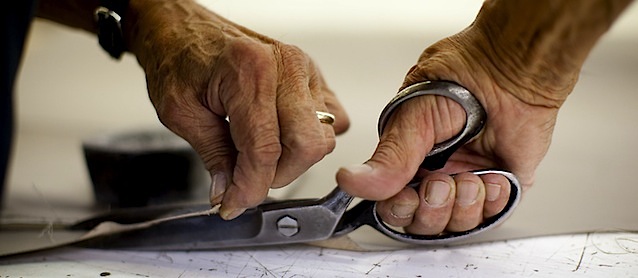 Interior Designer Melanie Langford of allaboutinteriors.org runs a great company. She understands the true value quality, and offered to write a guest post for me on sofa and chair quality. She approached the article from a Good, Better, Best comparative standpoint and makes a very clear case on the range of differences in the quality of furniture manufacture.
thanks Melanie!
Stuart.
How Are Sofas And Chairs Made? An Introduction On Good, Better And Best
When purchased with knowledge and awareness, thought and care, the upholstery you invest in now can continue to stay in your family for generations – as both a reminder of your family's memoirs and as an ultimate, highly valued antique as seen in this circa 1690 Louis XIII sofa, with original Aubusson upholstery.
As many car aficionados appreciate, there is a difference in the engine quality and in the interior fittings of a $24,000 car, a 45,000 car and a 75,000 (and up) car, and because these differences are so distinct many people are comfortable investing in a very luxurious car.  Similar to a well made car, well made furniture can withstand the test of time.
Many people do not understand what the differences are between a $1500 sofa, a $2500-5000 sofa and a $10,000- 20,000 sofa.  Taking into consideration that the upholstery in our own homes, meaning our sofas and chairs, are what give comfort and support to our family and friends, it would make perfect sense, to understand the differences between good, better and best.  Prior to investing in furniture, it is important you understand the differences so you can make informed buying decisions that you will feel good about, today, and years to come.
https://kindelfurniture.com/
So, let's begin.
The picture, below, shows what would be considered a *better*, but not the *best*, inner construction of a chair.  The biggest difference is the best quality chair frames are made from solid hardwoods, today commonly maple, and the *better* quality frames are made from 10-14 layers of laminated plywood –combined with soft woods.
This laminated plywood frame would be strong and fine under regular use – for a 10 year life span or so, (unless god forbid, small children jump up and down on it frequently or alternately if a heavy person is using the piece frequently.)  However, a hardwood frame will last forever – no matter the usage – and would be designed to become a fine antique, able to be passed down through the generations.
Now, let's take another look at some more pictures of what represents the finest quality:
8 WAY HAND TIED INNERSPRINGS VS. PIRELLI WEBBING
8 way hand tied innerspring core is considered one of the finest standards for upholstered furniture because they offer the most even, comfortable support over the entire cushion, and they don't sag or move.
Below is an example of a *better* 8 way hand tied innerspring interior:
This is much more expensive, as it is done knot by knot, by hand.  However today, the more popular ways of attaching them is with *hog rings* or a klinchit gun.  They both are faster and less expensive. That being said, if you want the very finest quality, a custom upholsterer who can hand tie springs will insure that your springs will never, for generations to come, come loose from your jute webbing.
Pirelli webbing
Pirelli webbing is also a common support system used now in many modern sofas, since Pirelli webbing allows for support for sofa models that cannot accommodate the depth of an 8 way hand tied spring unit. However, although considered a *better* support system, it is not the best because eventually it will sag, since it is made of rubber. Unless your sofa or chair gets an unusual amount of wear and tear, you won't have to worry about this for many years.
Here is an example of what can happen to Pirelli webbing, over time, with a lot of wear and tear: On the left is the before, on the right is the after. Pirelli webbing often is used, by even the finest manufacturers, when a sofa or chair in their collection will not allow for the use of a 8 way hand tied innerspring unit.
And, although a sofa or chair with Pirelli webbing will, eventually, need to have the webbing replaced, most upholsterers will be able to work with Pirelli webbing, so don't concern yourself if you have your heart set on a beautiful, modern or Danish modern, piece of upholstery. Go ahead and purchase it and enjoy it for years to come.
UPHOLSTERY PADDING
Let's take a look at upholstery padding and understand the varying differences. There are two main types of inner upholstery padding used: 1) horsehair and cotton or foam and 2) Dacron or foam and down. In most fine antique furniture, you will, if you open it up, see horsehair.
Horsehair is considered the finest upholstery padding because its springiness and durability are first rate. A seat stuffed with horsehair can last for centuries and when it's time to re-upholster a piece stuffed with horsehair, it can usually be washed and re-used. It is the most expensive furniture fabric in the world and only a few factories in Europe are still producing it.
If you're having a custom workroom manufacture your sofa or chair exclusively to your dimensions, and you want the finest horsehair interior, ask them about double-stop stitching. Double-stop is the style of stitching that is used when the inner padding is made of horsehair. This is what a double stop stitch looks like.
There are many less expensive options for seat cushion upholstery padding.  Some of the most popular fibers in cushions today are foam, coconut fiber, vegetal fiber, and other types of animal hair. Most of these fall in the *better* category, depending on the quality of material. Most furniture you see in a retail store or showroom is filled with foam, or a combination of foam wrapped with Dacron or down. One warning: make sure to take into account whether you have any allergies before proceeding with selecting your filling materials.
When it comes to one of the biggest investments you will make in furnishing your home — the furniture you will use daily. You now have the beginnings of being able to make educated decisions about what's best for your family.
Whether it's to gather with a group of friends for a conversation, to formally entertain, to watch a movie or simply to read a good book, we urge you to invest in the best – for your family's well being.  As fashion guru, philanthropist and mother of three sons and three step-daughters, Tory Burch, has outfitted her South Hampton home with quality upholstery as seen below.
Please let Melanie Langford of All About Interiors know if you have any questions or need assistance with creating the perfect piece of upholstery for your home that will last for generations to come.
All images and informational content courtesy of the Hadley Court team, Kindel Furniture or referenced and linked to in the post except:
Image 3, 5, 6, 7